History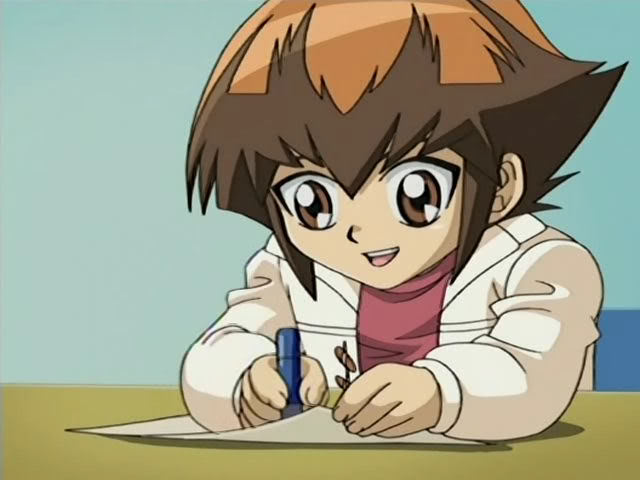 As a child, Jaden loved Duel Monsters. His favorite card was "Yubel", which was a gift from his father. Both his parents were rarely at home, as they were busy working. As a result, Jaden spent many of his days playing Duel Monsters with neighborhood children. However, whenever Jaden played "Yubel", something horrible would happen to his opponent. One of them, Osamu, fell into a coma. The spirit of the "Yubel" card was overly protective of Jaden, and punished his opponents. After that incident, no one wished to Duel Jaden, as they feared for their safety. Around this time, Jaden entered a card design contest held by KaibaCorp, and won with his monster designs, which included the "Neo-Spacians" and "Dandylion". As part of the project, the cards he designed were launched into space, with the hopes that the cards would be imbued with space waves. Jaden requested that his "Yubel" card be sent up in a separate capsule, in the hopes that the space waves would pacify the malicious spirit of the card. Soon after, Jaden began having nightmares, where he would see Yubel burning in flames. Worried, his parents arranged for him to have a medical procedure performed on him, which rendered his memories of Yubel dormant.


-RULES-




Keep questions in one place, ask on journals.

You may befriend Jaden and can refer to him as Judai if you wish.

Do not immediately ask to be Jaden's friend in such a hurry, connections and strong bonds form through either talking to him in RP or dueling him.

Do not rush the admin of the account when answering questions, it's been ages since this account was used.

Do not spam or leave negative comments, nor be rude for that matter.

Do not use non-existing cards, meaning fan-made cards to instantly win a duel.

When dueling with Jaden it's fine to use actual existing cards that were seen in any YGO series as long as it's not fan-made.

No you cannot kill Jaden.

No forced pairings, if the admin does not like then do not be rude or angry or complain.

Yaoi is fine but keep it interesting.